Adjustable Beds & Specialty Bedding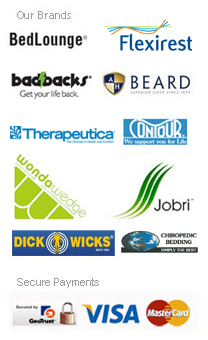 Visit our other online stores
previous
next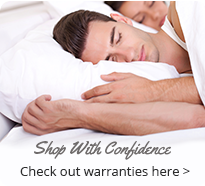 Testimonials
"…I have two bulging discs at the bottom of my spine" Read more >
"…I first came across Buckwheat pillows about ten years" Read more >
"It has been a pleasure being able to obtain good quality products" Read more >
---
Flexirest Electric Adjustable Bed
No longer are adjustable beds confined solely to nursing homes and hospitals.....they have now become a stylish lifestyle addition to any home.
Whether you need an adjustable bed to help your bad back and sleep better, or whether you like reading, working on your laptop or watching TV in bed, the new Flexirest bed is the way to go.
Featuring wall-hugging adjustable bed technology, the Flexirest design keeps you in the same relative position to your bedside table, even when the bed is raised to its upright sitting position.
With wireless remote control, this ingenious bed design is easy to use.
Choose the amazing zero-gravity position that relaxes the spine and body through neutral positioning and a feeling of weightlessness, or select any bed position that suits your needs best.
Features:
2 x 8000N. D/C low noise motors
3 Speed low noise massage in both foot and head areas
Simple wireless backlit remote control
Wall hugger function
Pre set zero gravity position
Tested to 25000 stress cycles at 200kgs
GST exempt
Approved to Australian electrical standards
Ideal for memory foam or latex mattresses
All Australian sizes
Measurements:
Long Single 92 x 203cm (3' x 6'8")
King Single 107 x 203cm (3' 6" x 6'8")
Double 137 x 188cm (4'6" x 6'2)
Queen 152 x 203cm (5' x 6'8")
Split Queen 76 x 203cm (6' x 6'8") - 2 x Singles together
Split King 92 x 203cm (6' x 6'8") - 2 x Long Singles together
Optional Extras:
FlexiRest Brackets for connecting "Splits" SCB100 (set of 2)
FlexiRest 9" Legs adds 2" to height 9"LEG (set of 4)
FlexiRest Lockable Casters adds 1.5" to height 5"LEGC (set of 4)
Specifications:
Weight restrictions as follows per bed. (Maximum Person Weight Load (Kg)
Long Single 240kg
King Single 235kg
Double 230kg
Queen 225kg
Queen "Split" 245 per "Split"
King "Split" 240 per "Split"
Notes: All the above weights are after mattress weights have been deducted from the overall weight capacity of the bed base eg. Long Single base weight capacity is 270kg so we allow for a 30kg mattress to be added which brings the person weight limit down to 240kg.
Caution:
This product is not designed to support the above weight limits in the head or foot section alone.The weight should be distributed across the bed evenly.
Consumers should not enter or exit the bed with any portion in the raised position.
Do not sit on the head of foot sections while in the raised position.
Exceeding the recommended weight restrictions could damage your bed and void your warranty.
Adjustable Bed Benefits:
Back pain – Legs raised or the Zero Gravity position takes pressure off the back
Circulation – Leg area raised up, the Zero Gravity position assists circulation moving throughout the body plus use the masssage system to get the blood flowing
Snoring – Raising the back and head up to free up airways
Breathing/Asthma – Back/Head area raised up to free up airways
Tension – Back/Head area raised, the Zero Gravity position to take pressure off the body or leg area raised up.
Acid reflux – Back/Head area raised up to assist in preventing reflux
Fibromyalgia – The Zero Gravity position may greatly assist with this disorder.
Insomnia – Adjust the bed to find a comfortable sleep position…no more tossing and turning
Osteoarthritis MS – Adjust the bed to find a comfortable sleep/rest position. Zero Gravity may be the best for this condition.
All Flexirest Adjustable Beds are manufactured to Australian standard sizes complete with modern looking new age fabrics. These adjustable beds look just like a normal mattress ensemble with all the extra benefits that adjustable bedding brings.
All Flexirest Adjustable beds have minimum output 8000N (Newton) motors that have been independently stress tested to 25,000 cycles at a 200Kg weight. They use two very low noise DC motors in all bases with a unique lever driven system so no stress is applied to the motors. All frames and metals are fully powder coated and the screw in legs are inset to give a stylish modern look.
They use wireless technology with a backlit wireless remote controller that has three preset most commonly used adjustable functions. There are also separate head and foot area controls with the added feature of massage with variable adjustments to the body areas and intensities.
Safety
All Flexirest adjustable beds have a unique spring back safety feature whereby if something was to get between the adjusted area while the base was being lowered the motor will detect the object and spring back and release the downward pressure away from the object. A battery back-up is included to get you back down flat if the power fails.
Warranty
Five year limited warranty on all parts and motors. Refer to the PDF for more details.
Delivery
Delivery ONLY to Sydney, Melbourne & Perth metro areas.
PLEASE NOTE:
This item is non-returnable unless faulty or damage.
Sizes & Pricing
Long Single :: $2150.00
King Single :: $2250.00
Double :: $2350.00
Queen :: $2450.00
Split Queen :: $4295.00
Split King :: $4295.00
Back to top ^