Adjustable Beds & Specialty Bedding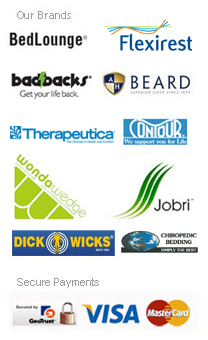 Visit our other online stores
previous
next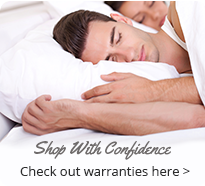 Testimonials
"…I have two bulging discs at the bottom of my spine" Read more >
"…I first came across Buckwheat pillows about ten years" Read more >
"It has been a pleasure being able to obtain good quality products" Read more >
1. What is the difference between adjustable beds and zero gravity adjustable beds?
Most adjustable beds are able to create the zero gravity position by using the end and head of bed electric adjustments. However, the BetterRest zero gravity bed has a simple one touch button that puts you into the correct zero gravity position straight away. Also the BetterRest bed moves the bead head and end simultaneously; other adjustable beds move independently.


2. What is a wall hugging bed?
A unique adjustable bed design that keeps you next to your bedside table as the bed head is raised. The bed literally hugs the wall as the bed head is raised. All other types of adjustable bed move you away from the wall and your table, book or cup of tea!!


3. What sizes are available in the adjustable bed range? - are they standard sizing?
All adjustable beds come in standard Australian bed sizes as follows Long Single, King Single, Double, Queen, King (made of two Long singles put together), in the FlexiRest range a split queen.


4. Will it fit my standard bed frame?
Yes they will. Head board attaching brackets are also included with each BetterRest adjustable bed.


5. Can I use my own mattress with the adjustable bed or purchase any mattress to complete the ensemble?
We recommend any mattress that has been recommended for use with adjustable beds, which are normally memory foam, latex or a combination of the two. Spring or pocket mattresses will not normally conform to the shape of an adjustable bed.


6. Will the mattress slip off when I adjust it?
Each adjustable bed has an end of bed chrome retaining bar which stops this happening.


7. Does your adjustable beds allow ready access to my bedside tables?
Most adjustable beds when you are raised up at the head move you away from the wall and therefore your bedside table. The unique wall hugging BetterRest bed always keeps you next to your table.


8. Do all adjustable beds have a massage function?
All adjustable beds come with independent head and foot massage functions, which vary in massage pattern and intensity.


9. They are called adjustable beds, but don't you mean adjustable bed base?
Yes, that is correct, but of course when you move the base the whole bed moves, hence the terminology.


10. Can I personalise the adjustment on my own side of the bed and not my partners?
If you purchase a king bed, it comes with two long single bases. If you have a long single mattress on each base, then yes you can adjust each base individually. Some people want a king mattress on their bed. In this case you would synchronize the two adjustable bases to work together to raise and lower the whole king bed.


11. Can I sleep in zero gravity or is it just for resting, reading, watching TV, getting out of bed?
Yes, you can sleep in the zero gravity position if you want.


12. How do I know what adjustment position is best for me?
It's a very personal and subjective thing. Some people who have reflux, breathing or snoring problems may sleep with the bed head raiser a little. If you watch TV in bed or want to work on your computer you may have the bed head raised fully. Similarly if you have a bad back, it is a well known fact that raising the legs takes the pressure off your back.


13. Is the adjustable bed manually or electronically adjusted?
The bed is adjusted electrically.


14. Can I adjust the bed from both sides or is there one central control?
If you have one base, then you get one remote. Similarly if you get two bases (to make a king size for example) you get 2 remotes, so you can personalise each bed bases movements.


15. Is the height of the adjustable bed the same as a normal bed base (eg. Will a valance cover the adjustable bed)?
The adjustable beds comes with 4" legs, similar to a standard bed base.


16. Do I only require access to one power-point?
Yes, one power point is required for each base.


17. What is the warranty on the adjustable bed?
- The Ergomotion warraty is a 10 year pro-rated structure warraty, 2 year motor warranty.
- The FlexiRest warranty is 5 year limited warranty on all parts and motors.
See our warranty information for more details.


18. I thought adjustable beds were used in hospitals and by retired people?
That has certainly been true in the past, but in the last 10-15 years or so there has been a huge change in the way adjustable beds are used. They are very much a lifestyle purchase these days for the average home. People read books, newspapers in bed, watch TV, work on their computers.....did you know nearly half of all LCD TV';s end up in the bedroom. Also over 80% of us experience a bad back at some time in our life, and the zero gravity position is just perfect for sleeping or sitting in bed.


19. What has been done to the bed to address weak points?
(eg. When I sit on the side of the bed repetitively to put my shoes on... the mattress sags over time)
The adjustable base is guaranteed to strict weight limits. Sitting on the edge of the bed will make no difference. The mattress sagging over time depends on what mattress you use.


20. Do I need to rotate my mattress on an adjustable bed? If so how often?
You only need to rotate the mattress if the mattress supplier recommends this. It has nothing to do with the base.


21. What features should I look for when shopping for an adjustable bed?
Look for a quality made base with a quality motor proven in its performance over time. You also need a good warranty. Many people also want their adjustable base to look like a traditional bed base which is like the BetterRest, and having a wall hugging feature is always a great benefit.


22. Do you offer adjustable bed base and mattress deals?
From time to time we may offer promotions on bases, mattresses or a combination of the two.


23. What linen do I require? Is the bed made up as two singles?
Normal bed linen fits the bases, although it you have a king bed, remember it is made up of two long single bases.


24. Do you need a bed frame?
You may use a bed frame or not, its up to you.


25. If you don't have a bed frame what holds the two single beds together?
There is a simple clip at the head of each long single which keeps the beds together.


26. Are two long singles available to make up a King?
Yes, this is the only way to make a king. Nobody makes a king base as a single base, as they can not support the weight with one motor.


27. Is any assembly required when you purchase an electric bed base?
No assembly is required. The only thing you need to do is synchronize the bed control box to the remote, and detailed instructions show you how to do this. It's very simple.


28. Can I still use my electric blanket and /or magnetic underlay. with an electric base?
Yes you can. You need to check whether your mattress can be used with these items.


29. Is it noisy ?
Featuring a German made motor - it is super quiet.


30. If there is a powercut, will I get stuck on the bed in a raised position?
All BetterRest adjustable beds feature a power down button, powered by a battery in the control unit. This allows the bed to be lowered to a flat position one time, after that the battery must be replaced.


31. Can I sit on the end of the bed when it is in a raised position?
No you cannot. The bed is meant for lying on only when in raised positions. The bed must be flat if you want to sit on the bed end.